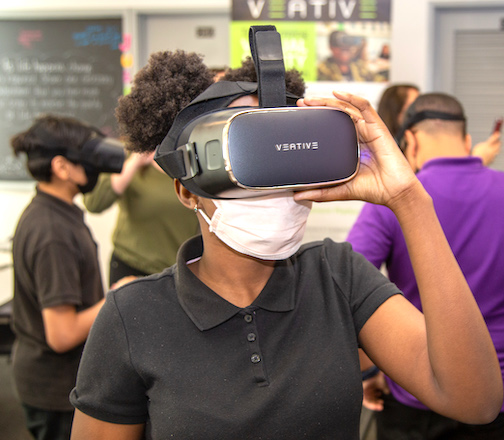 FOR IMMEDIATE RELEASE
Friday, May 6, 2022
'Innovative Space' Media Center Unveiled at Shenandoah Middle School
A ribbon-cutting ceremony was held yesterday to unveil a new, technology-rich media center at Shenandoah Middle School. The school is among the latest Miami-Dade County Public Schools (M-DCPS) facilities taking part in the Middle School Redesign (MSR) initiative, which modernizes spaces with bright colors, new comfortable furniture, virtual reality (VR) equipment, Promethean boards, a robotics section and more than a dozen computer stations.
This initiative is made possible thanks to a $2 million partnership between M-DCPS, the College Football Playoff Foundation and the 2021 College Football Playoff National Championship Game Host Committee.
Many students were very excited by the new media center. "I've never seen anything like this, this beautiful and modern," said Jasmine Casseus, 7th grader, who offered the student greetings at the ribbon-cutting ceremony. "It is almost unreal to see everything. The people who did this were amazing."
Schools Superintendent Jose L. Dotres, School Board Member Mari Tere Rojas and Shenandoah Middle School Principal Bianca Calzadilla were joined by Orange Bowl Committee President-Elect Frank Gonzalez, Thomas Abraham, Chair of the Anthony Abraham Foundation and College Football Playoff Foundation Executive Director Britton Banowsky, to officially unveil the media center.
Pictured center – Schools Superintendent Jose L. Dotres; Dr. Sylvia Diaz, Chief Academic Officer;Shenandoah Middle School Principal Bianca Calzadilla and School Board member Mari Tere Rojas are
joined by Orange Bowl Committee and Anthony Abraham Foundation partners. The ribbon-cutting eventunveiled the new innovative media center at Shenandoah Middle School.
Student Daniela Viera had wondered what the redesign construction would reveal. "I had heard hints about it, but I wasn't sure how it would look. I never expected it to look this good! This is very important because it's a very new, innovative space for future Chiefs! And they will be able to enjoy this brand-new place, which is amazing. This place will help them so they can focus and can feel comfortable in school."
The partners will continue to unveil new projects throughout the year in support of the District's MSR initiative, which is intended to meet the unique social, emotional and academic needs of teachers and students.
For the most up-to-date information, please download the Dadeschools Mobile App to your iPhone or Android device. Follow us on Twitter @mdcps and @suptdotres, on Instagram @miamischools and @suptdotres, and on Facebook at MiamiSchools.