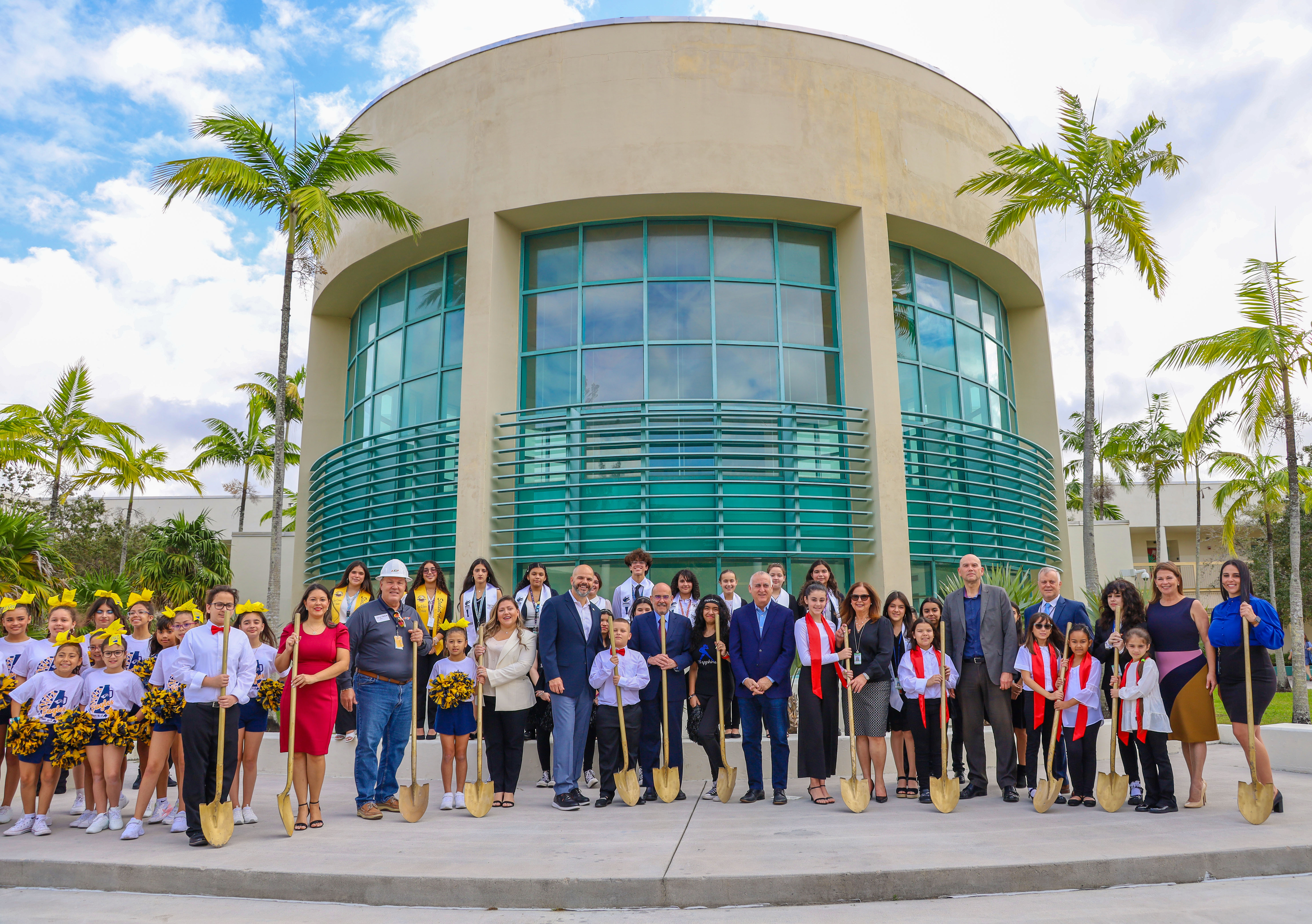 FOR IMMEDIATE RELEASE
Friday, February 10, 2023
Miami-Dade County Public Schools Holds Groundbreaking Ceremony at Ernest R Graham K-8 Academy
Schools Superintendent Dr. Jose L. Dotres, School Board member Roberto Alonso, Ernest R Graham K-8 Academy Principal Mayra Alfaro, Hialeah Mayor Esteban Bovo, District representatives, school staff, and students gathered this morning at the school to symbolically break ground on a new $11.2 million General Obligation Bond project.
The school was named for Ernest R Graham, a Florida state senator from 1937 to 1944, who helped repeal Florida's poll tax. Graham, whose efforts to create a public university in Miami-Dade eventually led to the establishment of Florida International University, also owned one of Miami's largest dairy farms. His son Phil Graham was publisher of the Washington Post and his other son Bob Graham became governor of Florida and served in the U.S. Senate.
Proposed campus-wide improvements for this project include new covered walkways to connect to existing drop-off areas, resurfacing of hard courts and play areas, and new flooring in three buildings. Elevator cabs in two buildings will be modernized. Other improvements include replacing the the air handling units, electrical heat, a new fire alarm system, and new guardrails. There will also be new exterior doors, selective stucco repairs, patching, sealing, and caulking walls.
"I think that what they are doing now for the improvements is really amazing," said 13-year-old Brittny Santaball, an eighth grader who gave the greeting at the ceremony. "I've been at this school since 5th grade and overall the experience has been very nice. I like how the school is going to get renovations and making it the best that it can be for the community."
The school bond projects resulted from voter approval of the $1.2 billion General Obligation Bond in 2012. Funds from the bond are being used to modernize and construct school buildings throughout the District, expand student capacity, enhance facility safety, and provide technology upgrades at all schools.
For the most up-to-date information, please download the Dadeschools Mobile App to your iPhone or Android device. Follow us on Twitter @mdcps and @suptdotres, on Instagram @miamischools and @suptdotres, and Facebook at MiamiSchools.
TOP CAPTION:
Pictured center: School Board member Roberto Alonso, Schools Superintendent Dr. Jose L. Dotres, Hialeah Mayor Esteban Bovo and Principal Mayra Alfaro are joined by students and school and District representatives in the groundbreaking of a number of improvements at Ernest R Graham K-8 Academy.
###