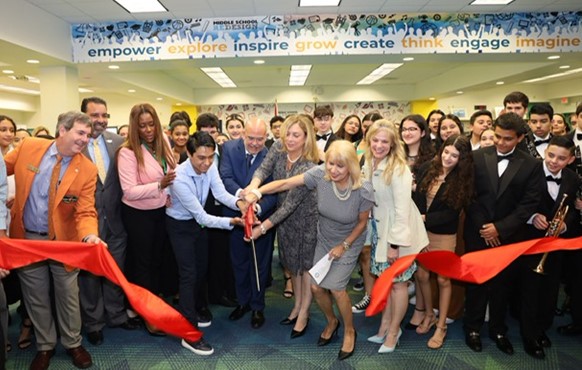 FOR IMMEDIATE RELEASE
Wednesday, March 1, 2023
Innovative Media Center Unveiled at Lamar Louise Curry Middle School
Miami-Dade County Public Schools (M-DCPS), the College Football Playoff Foundation and the 2021 College Football Playoff National Championship Game (CFPNCG) Host Committee unveiled a new media center at Lamar Louise Curry Middle School on Tuesday, complete with virtual reality (VR) equipment.
Lamar Louise Curry Middle School is one of 16 Miami-Dade public middle schools that have had their media centers transformed into technology-rich innovation spaces over the past two years. The four remaining schools will unveil their new projects by the end of this school year.
After the ceremony, students got the opportunity to road-test the some of the 25 VR headsets that are now part of the media center's innovation space.
"I think it's very cool," said sixth grader Jonathan Gonzalez. "I'm looking at the effects of the magnetic fields of the earth and the sun, how charged particles affect the earth." 
Lourise Lamar Curry Middle School sixth grader Nichols Boue-Varela tries out one of the media center's new VR headsets
In addition to the innovation workspace created as part of this effort, the media center was fitted with new tables, modular chairs and carpeting. There is also a Share Wall, where students can write messages collaborating on a lesson or answering questions posted on the wall to check in to express how they are feeling on a particular day.
"The kids will feel comfortable here, they can relax and play games," said Lamar Louise Curry Middle Principal Michele A. Bush. "Nowadays, kids are a little different, they want to venture into different ways of learning. The way the media center is renovated now it adjusts to those needs."
This event is part of a $2 million partnership among the three entities in support of the District's Middle School Redesign (MSR) initiative, intended to meet the unique needs of teachers and their students.
Attending the ribbon-cutting ceremony were Schools Superintendent Jose L. Dotres, District 8 School Board member Monica Colucci, School Board Chair Mari Tere Rojas, CFPNCG Executive Director Britton Banowsky, Orange Bowl Committee Chief Executive Officer Eric Poms, Orange Bowl Committee member and past President Jeff Rubin.
For the most up-to-date information, please download the Dadeschools Mobile App to your iPhone or Android device.  Follow us on Twitter @mdcps and @suptdotres, on Instagram @miamischools and @suptdotres, and on Facebook at MiamiSchools.
TOP CAPTION: Schools Superintendent Dr. Jose L. Dotres, School Board member Monica Colucci,School Board Chair Mari Tere Rojas and Louise Lamar Curry Middle School Principal Michele Bushare joined by students and school and District representatives in the ribbon cutting.