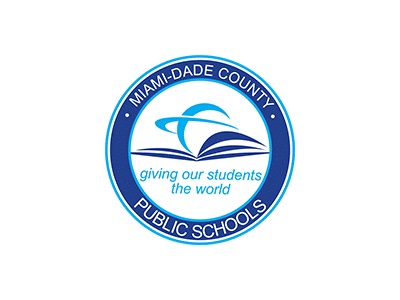 FOR IMMEDIATE RELEASE
Wednesday, May 10, 2023
M-DCPS Honors Outstanding Principal, Assistant Principal of the Year
Pictured above on the left: 2023 Principal of the Year Leonardo Mouriño and on the right: 2023 Assistant Principal of the Year Elvira Ruiz-Carrillo, Ed.D
This evening, the top Miami-Dade County Public Schools (M-DCPS) administrators were honored at the annual Principal and Assistant Principal of the Year awards ceremony, sponsored by the Dade Association of School Administrators (DASA). The event was held at the DoubleTree by Hilton Hotel.
Leonardo Mouriño, who serves as principal of Morningside K-8 Academy, won top honors as the District's Principal of the Year. Mouriño has been an educator at M-DCPS for 30 years. He began teaching kindergarten and first grade at Rainbow Park Elementary. After three years, he was promoted to assistant principal where he first served at Highland Oaks Middle. He worked as assistant principal at various schools for 22 years. Mouriño was promoted to principal and has served at Morningside K-8 Academy for the past five years.
Elvira Ruiz-Carrillo, Ed.D. of North Miami Senior High was recognized as Assistant Principal of the Year. Dr. Ruiz-Carrillo began her career with M-DCPS in 1999 as a teacher. In 2003, she worked as a program specialist for three years. Dr. Ruiz-Carrillo was promoted to Assistant Principal in October 2006 and spent nearly 12 years in the position before getting promoted to Vice Principal in 2018.
The Principal of the Year winner will receive a $2,000 cash prize and a three-year lease on a car sponsored by Toyota of North Miami. The Assistant Principal of the Year will receive a $1,500 cash prize and a 65-inch TV from Aflac.
This event is made possible through a partnership with the event's sponsors including: Equitable, All Here, Toyota of North Miami, Delta Dental, EdFed, BENCOR, School Specialty, Hand2Mind and Corebridge Financial.
Also recognized at the ceremony were Principal of the Year Runner-up Dr. Cynthia Clay, Dr. Robert B. Ingram Elementary, and Assistant Principal of the Year Runner-up Dr. Dana E. Baugh, Mandarin Lakes K-8 Academy.

For the most up-to-date information, please download the Dadeschools Mobile App to your iPhone or Android device. Follow us on Twitter @mdcps and @suptdotres, on Instagram @miamischools and @suptdotres, and on Facebook at MiamiSchools.
# # #